Drink wine.
Not too much.
Mostly Italian.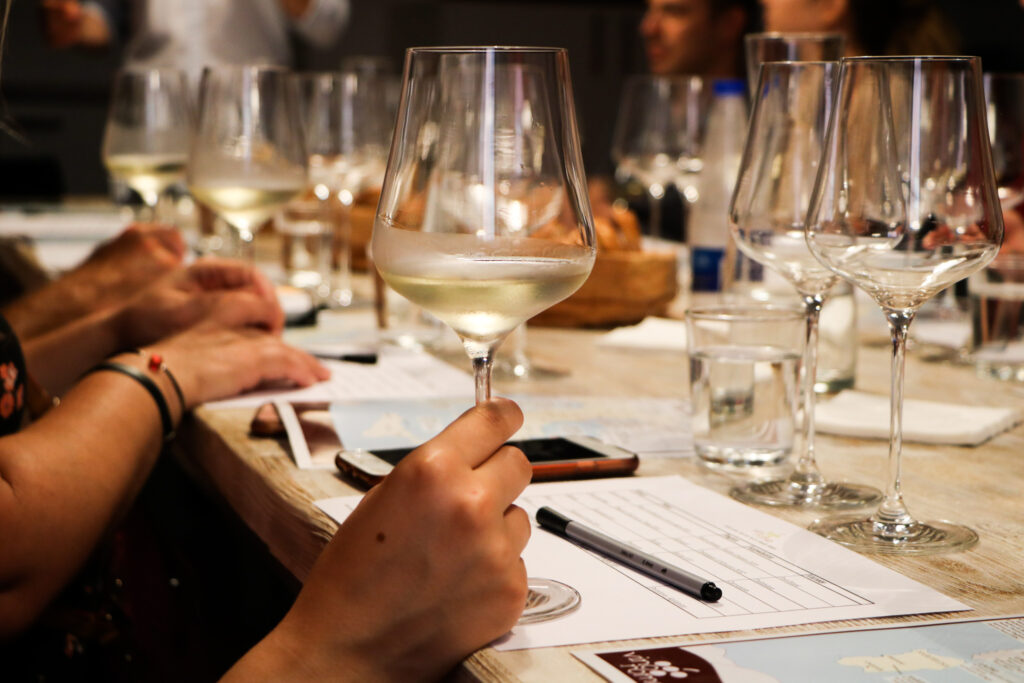 VinoRoma è un'Associazione Culturale dedita al mondo del vino nel cuore di Roma, a pochi passi dal Colosseo. Offriamo degustazioni a tutti i livelli, rivolte sia ai cittadini romani e italiani che ai turisti ed expats, il tutto nel comfort della nostra sala degustazioni privata e della nostra cantina. Vieni a bere con noi!
Scopri uno dei nostri eventi degustazione che si svolgono quasi tutti i giorni della settimana nel nostro wine studio privato. Oppure prenota un tour enogastronomico per esplorare con un'ottica diversa uno dei tanti quartieri della Capitale, gustando piatti romani contemporanei e della tradizione.
Aggiorniamo continuamente il nostro calendario con eventi unici e imperdibili quali degustazioni con viticoltori, collaborazioni con ristoranti ed enoteche, master class con esperti di vino e altro ancora. Scopri cosa abbiamo in programma!
Se vuoi regalare al tuo staff un corso di formazione adeguato rivolgiti a VinoRoma. Ci occuperemo di seguire il personale di sala per garantirti che il servizio nel tuo locale sia impeccabile. Forniamo anche consulenza per la creazione della carta dei vini che si abbina al meglio al tuo menu.
Stai cercando un ambiente unico per la tua prossima festa o evento aziendale? Il wine studio di VinoRoma è situato in una posizione centrale, è spazioso e completamente attrezzato per accogliere i tuoi amici e colleghi con stile!
Scopri cosa dicono di noi su TripAdvisor:
Maurizio took us on a tour of Testaccio Market and the surrounding neighborhood and we had the MOST AMAZING time. He's really funny, kind and full of historic facts about... read more the city. We ate the best pizza of our lives and adored the entire tour. Would 100% book with him again next time I'm in Rome.

JennyAdams22


22 Settembre 2022

In August 2022, my husband and I did the Trinofale neighborhood food tour with Maurizio. We spent several hours exploring the neighborhood and its food gems - including Roman... read more pastries, pizza, wines, and the most exquisite mozzarella we have ever tasted. It was a wonderful introduction to Roman cuisine and Maurizio was an excellent guide and supremely knowledgeable. Two days later we went to a wine tasting at the Wine Studio and enjoyed several delicious wines. We later had dinner nearby at one of the restaurants recommended by Maurizio and then while still in Rome, had dinner at another of his recommendations. All were excellent. The food tour, the wine tasting, and these restaurants were all top highlights of our five days in Rome. We learned a lot about food, wine, and Rome and enjoyed it all very much!

72amyk


20 Settembre 2022

This was a fantastic tasting. The wines and service were top notch. The studio is very comfortable and Maurizio was extremely knowledgeable. We have done tastings all over the world... read more and this was by far one of the best. If you are in Rome and enjoy wine this is worth the stop.

TravelerAF3


13 Settembre 2022
Tienimi aggiornato!
Iscriviti per ricevere la newsletter mensile di VinoRoma, incluse le novità sui prossimi eventi.