Drink wine.
Not too much.
Mostly Italian.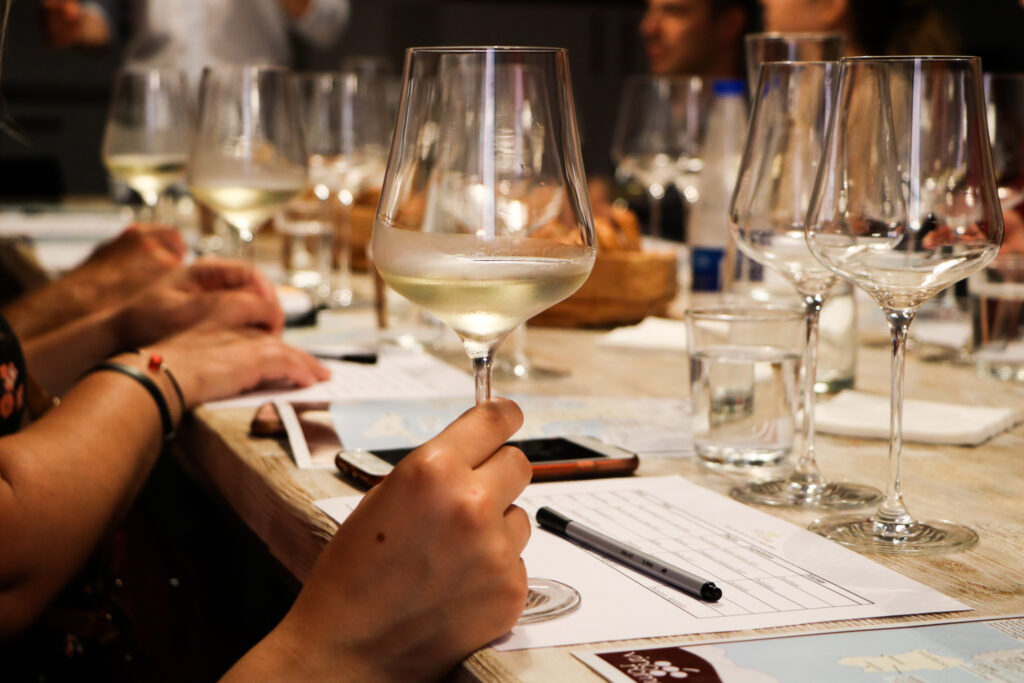 VinoRoma is a wine studio and social club in the heart of Rome, just minutes from the Colosseum. We offer wine education to locals, tourists and expats alike, all in the comfort of our own private tasting room and cellar. Come drink with us!
Check out one of our wine tasting events taking place all week every week in our own private wine studio. Or book a walking tour exploring one of the many unique Roman neighborhoods while tasting traditional and contemporary Roman fare.
We're continuously updating our calendar with unique, unmissable events such as winemaker tastings, collaborations with restaurants and wine bars, master classes with wine experts and more. Check out what's coming up next!
If you would like to prepare your staff on proper wine service, look no further than VinoRoma to bring everyone up to speed. Or hire us to consult on your wine list and help you choose and order the best selection of wines for your menu.
Are you looking for a unique setting for your next party or corporate event? The private VinoRoma wine studio is centrally located, spacious and fully equipped to help you welcome your friends and colleagues with style!
See what others are saying about us on TripAdvisor:
My family and I enjoyed a wine tasting experience with Vino Roma and it was honestly one the best activities of our trip to Rome. It was really well designed... read more and such fun for all. I can't recommend it highly enough, even if you are a serious wine buff or just a beginner this is a superb way to spend your evening. Thank you!!

kaelanoshea


1/21/2020

We visited in January and were lucky enough to have Mauricio to ourselves for this wonderful wine tasting session.
Learnt so much about wine tasting, food matching and about all... read more the wine regions of Italy. Very knowledgeable, friendly and relaxed. Tasted some delicious wines to help us with our gastronomic tour of Italy!

G4398UPdavec


1/15/2020

We had a fantastic Wine & Cheese tasting. Very intimate. Lovely small group of people (only 7 of us). Great food and great wine. Never had cheese so good! Very... read more knowledgeable hostess. So glad we booked this and well worth the money.

Caroline E


7/15/2019

This was our second trip to Vino Roma. We attended the wine and cheese dinner which was exceptional. We tasted five wines and paired them with various foods.... read more Our hostess, Hande, was very knowledgeable and quite fun to talk with. My husband and I both learned a lot even though I am not a wine novice. She graciously accommodated our two children for the dinner portion of the event as well. A must do for beginner to advanced wine lovers.

Jennifer H


6/25/2019

I didn't have enough time to spend it inside, but, based on the things that I have seen in this short period of time, it is nice, cozy and professional.

nenadrokvic1980


6/05/2019

If you have ever had a glass of wine and enjoyed it, this is the place for you! I have done tastings and classes before but this place, beginner... read more or expert is knowledgeable, uniquely Italian wine centric, with not an ounce of pretension or wine snobbery! Loved every moment and will return when in Rome!

taram_ca


6/01/2019

Since returning back home, this has been the first thing i have been telling everyone. If you have ever drank wine or plan to, you need to go to Vino... read more Roma for a tasting. It is fun but you also learn a lot about Italian wines and wines in general. not to be missed. I seriously am enjoying wine a lot more since doing this.

ElenaF20191


2/11/2019

Really satisfied with the "My Italians" course! The sommelier was fluent in English and knew her wines well. I loved that the focus was on getting to know your personal... read more taste in wine, which will make it easier to choose wines in the future.

Mobile733870


1/04/2019

We went to Vino Roma for my birthday while in Rome last week. Our sommelier was outstanding. He was knowledgeable, informative, and entertaining. I was captivated and immersed in the... read more experience the entire time. It was an intimate and relaxing experience. The wine was excellent. I learned a great deal about Italian wine, proper tasting, and pairing. When in Rome and looking for an authentic Italian wine experience, go to Vino Roma.

flightmedic18


12/10/2018
Keep me in the know!
Sign up to receive the VinoRoma monthly email newsletter, including news on upcoming events.